On this page, we will note down and upgrade installation tips for the ST911 Smart dashboard, Those tips will help you a lot while making the installation. Customers can save the page on their computer or cellphone, We will upgrade the latest installation tips and software step by step. If Tesla upgrades their software. Maybe ST911 has problems after Tesla software is upgraded, But do not worry, we will launch the new software and publish it here. Customers can download and upgrade it from the Type C port on the Dashboard.
ST911/ST1000/ST1000Plus installation is similar, So you could take a reference from below page. ST1000/ST1000PLUS Manual is provided
----------------------------------------------------------------------------------------------------------
Note before installation
1. Please pay attation to product case . The product case is finished by UV, this finishing is easy to damaged by hardness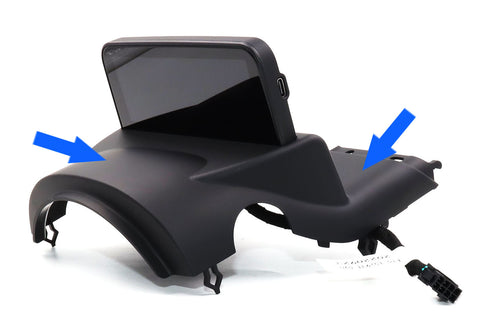 2. Please pay attation to the clip. the clips is easy to damaged if not fit correctly, pls pay attention while putting on the car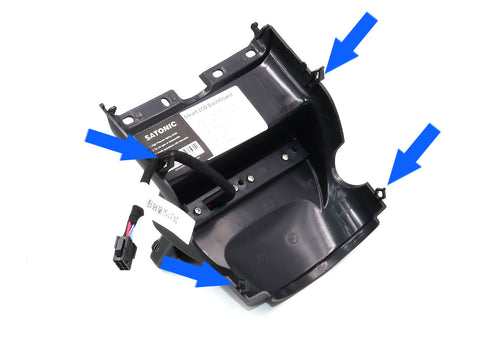 What "CAN" mean
(Controller Area Network, CAN) , on ST911, when we motioned "CAN". that means data transfering , such as CAN connector, After you connect ST911 CAN connector to your vehicle, it can read car informations, such as speed, battery, door ,belt etc...
---------------------------------------------------------------------------------------------------------
1. Cable connection 
There are different between Ryzen AMD and Intel Atom cable connection.  customers should pay attion on 
AMD cable installation:
1st generation AMD cable should connect two places, one connector is in passenger side , another connector is in driver side
Notice:
For ST911 AMD data cable , one connector connect to car data connector, For another side. no need to connect  (it leaves for other products, such as install another devices )
If cable is connected incorrect, ST911 will be not powered on
The follow introduction is for LHD (Left hand drive ). For RHD (Right hand drive), Please check the connector, some cars is in opposite. Customers can recognize from the cable connector.  there are more cables for power connector than AMD data cable connector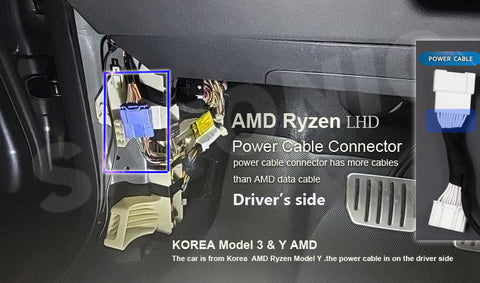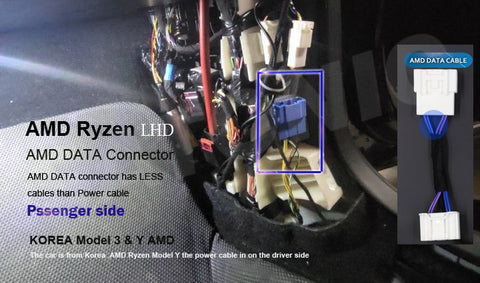 2nd Generation AMD cable, SATONIC upgraded the cable  from 15th Jan 2023, For some products in Korea stock , it had 1st generation AMD cable.  For the new generation AMD cable, the power cable will connect with wireless charger port, no need to accemble the dashboard again, just open the saddle and connect the power cable with wireless charger connector. Connectting the data connector with AMD data port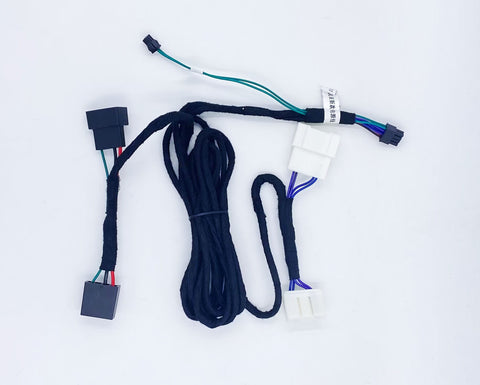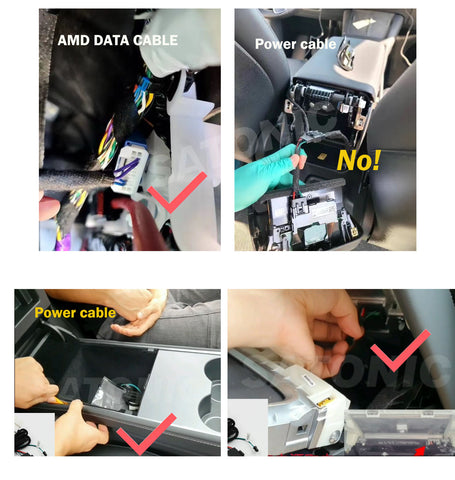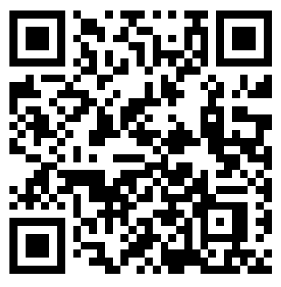 SCAN  QR CODE
CHECK INSTALLATION VIDEO
Intel cable installation:
For intel Atom version installation, just connect the data cable on the driver's side (for some vehicles, it is on the passenger's side)
2. Installation video reference
3.How to Set ST911
How to enter into setting mode:
Long time press the right side roll button on the steering wheel to right side for 3 seconds, then you will enter into setting menu.

How to exit the setting mode:
Slide the left roll button on steering wheel and finish the setting
For CAN Option, factory setting is "1". If the screen can not display or display wrong information on the ST911. then please enter into setting manual and change CAN option into "2' ( Due to Tesla upgraded thier software design from 2022.28.2. CAN data transfering was different) 

Get power frunk with 15%
4. Software
  2022.12.30 upgrade software, Download & upgrade from :          
https://drive.google.com/drive/folders/1yv7CT62uxTl-PeHLe_SsrocxTAy7o6BX?usp=share_link
| | |
| --- | --- |
|  Software upgrade     DEMO ( time ) |   Discription |
| 2022.10.14 | Add CAN option 1.2, to solve the problem which tesla software version is upgraded into 2022.36.3. then can not read car datas.  Option 2 is for tesla software version 2022.36.3 and after.. |
| ST911 app_16-32  V2.0.221219 | Has upgraded battery display content & temperature bugs... |
Software upgrade process:
1) Take a TF card ( 8/16G ), Format the TF card in to FAT32
2) Copy the software into TF card 
3) Insert car reader in to the Type C port on ST911,  and power off your tesla screen.
4) Press the brake with your foot , then ST 911 will be upgrade 
     Notice:  Press do not move your foot, do not remove TF card, do not power off while ST911 is upgrading ...
5)  Screen will be upgraded for two times.  it will upgrade successfully after the upgrade bar run to 356 fully
Upgrade high beam light display
Add CAN option, Solve the problems which ST911 can not read datas from cars after Tesla software update to above 2022.28.2


For ST1000/ST1000PLUS , We designed the AMD and Intel connector in one cable group
1) Operation Manual download: 
https://drive.google.com/file/d/1RXZVBGfwxrDRkMs6G8Q4NGmWyBuBrI0d/view?usp=share_link 
Notice:
1. If all doors not closed, ST1000/ST1000plus will not enter into any display or menu. Please close all doors and swith into "D". Then can enter into setting menu or display interfaces. Press the right roll up and down to chose display function
2. The front camera will display when the speed is under 25km/h after swith "P" to "D", The front camera display will be exit automatically when speed is over 25km/h, If you want front camera display when speed is over 25km/h, Press down the right roll for 3 seconds
2) Upgrade Content on ST1000PLUS
1) Bluetooth name : CarKit-9D84.  Pair Code: 0000
F & Q
1. The software is upgraded unsuccessfully, no action after insert card reader with TF card.
1). The TF card reader is damaged, Please try with another TF card reader
2). Please make sure whether you format the TF card into FAT32
5. Online Product Support:
      support@satonic-autoparts.com
6. Customer Care Complaints and Suggestions:
      info@satonic-autoparts.com